Instant-on Raid Mode: Customize in-game audio with one click
124dB signal-to-noise ratio (SNR) and audiophile-grade DAC: Enjoy high-fidelity, immersive sound
Sonic Studio utility: Take full control over loads of sound technologies via an intuitive, one-page interface
Sonic Radar Pro: Lets you pinpoint the exact location of in-game sounds and enhances critical audio details like enemy footsteps for an aural advantage
600ohm headphone amplifier: For enhanced bass and clear, detailed sound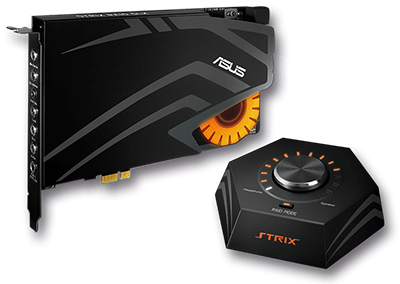 Strix Raid DLX is a premium sound card set built with audiophile-grade components to satisfy gamers who demand ultimate audio performance. Strix Raid DLX features rich, immersive, and clear sound with an incredible 124dB signal-to-noise ratio (SNR), and a 600ohm headphone amplifier for deep, tight bass. The simple yet powerful Sonic Studio sound utility and control box provides complete sound card control and allows instant in-game audio adjustments.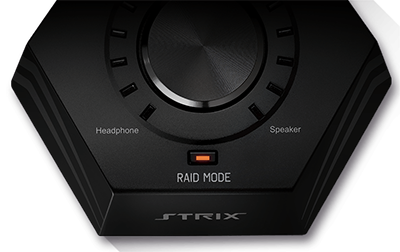 GAMER-FRIENDLY DESIGN
Instant in-game audio adjustment with Raid Mode
ASUS exclusive Raid Mode can be turned on right in the heat of gaming action with just one-click on the audio control box to provide the exact audio adjustment you want. With this powerful combination of Raid Mode and the audio control box, gamers no longer need to pause the game and open sound software to adjust their audio, ensuring they never miss a single moment of gaming action.
Gamers can save their favorite or most frequently-used audio adjustments — Equalizer, Bass Boost, Virtual Surround, and Mic Volume — into custom presets that they can instantly turn on or off with the dedicated Raid Mode button on the audio control box. It also has a convenient knob to adjust the Raid Mode intensity level.
TOTAL AUDIO CONTROL
Take complete control of your audio with Sonic Studio
Strix Raid DLX features the latest Sonic Studio software suite for full control over every sound technology, from equalization (EQ) to 7.1-speaker level-balancing. Sonic Studio has a single navigation page that puts everything in front of you, with an intuitive point-and-click interface that allows you to pre-set audio profiles to suit different audio requirements.